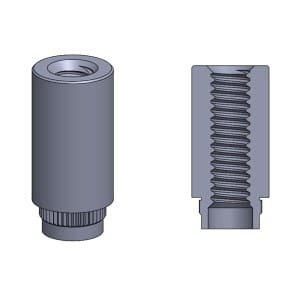 Self-clinching fasteners are an excellent solution when it comes to fastening into sheet metal. Unlike other fasteners connected through some attachment feature, self-clinching fasteners are designed to integrate within the core of the connected material. That means that the binding is so tight that a screw-threaded into the self-clinching fastener will likely fail and strip out first before the self-clinching fastener comes loose in its foundation. That kind of integrated connection and holding power is essential for securely closing, attaching, fixing, or connecting various components via fasteners in the first place. 
How Do Self Clinching Fasteners Work? How Are They Used?
The exact attachment of a self-clinching fastener requires specific preparation ahead of time. Like a rivet, the self-clinching fastener is pressed or forced into a hole cavity in the material it will use as a foundation. Whether that's metal or plastic, once the fastener is in, it's not likely going to budge or move out again. The installation is a one-time matter and permanent. After the fastener is housed, it can be used for connection, typically with a threaded screw inserted and tightened down.
Additionally, for thicker sheet assembly, please reference PENCOM's technical bulletin outlining installation of Self-Clinching fasteners in Thick Sheets. The Technical reference can be found with this link: Installation of Self-clinching Fasteners in Thick Sheets
Variations of Self-Clinching Fasteners
Not all fasteners are the same. Self-clinching fasteners can be bought in various styles and functions, adding to their flexibility when installed. These options include:
Standoffs

Studs

Panel fasteners

Sheet-joining style

Plain stud

Pin
Standoffs are precisely what they sound like. These are fasteners that create space between the connected parts. They are used when a position is needed versus simply joining two parts together, allowing direct contact.
Stud fasteners are pre-threaded bolts permanently anchored to a surface. These can be used as connection points secured by tightening down a nut on them with the material to be secured in between. They are usually suitable for pre-drilled panel boxes, panel parts, equipment holders, and similar.
Panel fasteners provide a way to close a panel securely without dealing with a handle or a latch that can be easily opened. The panel still needs to be accessed regularly, but the self-clinching fastener keeps it closed and less convenient to open without the right tools. The panel fastener itself never detaches from the panel it is integrated into, avoiding the problem of losing small parts when uninstalled.
Sheet-joining fasteners are particular to sheet metal and designed to keep layers connected or installed. This is often when the sheet metal panel needs to stay in place but occasionally removed when access to controls or internal sensors is needed. Fastening sheet metal applications are common, but sheet-joining fasteners can also be applied in appliances, hardware, vehicles, and computer hardware like servers and telecommunications equipment.
Pilot pins are different from a stud in that they are not threaded. They are essentially a basic stud that sticks out from the anchored surface. They are usually used to align parts that are secured with a different part in another location.
Self-Clinching Nut Fasteners and Types
There is also an assortment of nut hardware to choose from regarding self-clinching hardware. Unlike regular fasteners, which essentially project a stud portion outward, nuts create a cavity a securing screw or stud can be threaded into. This kind of hardware also uses the same installation benefit of anchoring down tightly, creating an amazingly tough and resilient locking feature for attachments and screw-in bolt attachments. Nut self-clinching hardware comes in different types, including:
Standard nut format

Miniature nut styles

Floating nut

Blind nut

Nylon insert nut
The standard self-clinching nut is an insert with an internally threaded cavity.  Securing screw threads right through and stays in place as it is tightened down on the nut itself anchored in the surface. The stud will extend to the other side as it threads through and protrudes into the other side.
The miniature nut is a smaller-sized version of the standard self-clinching nut. It uses a smaller thread cavity for smaller hardware and is usually used in tighter spots and applications such as miniature appliances and handheld devices.
The floating nut gives some flexibility when an assembly needs to be joined with a screw on the other side when things don't align correctly. 
The flush nut works in a very similar fashion to the blind nut. However, no part is sticking out of the other side of the sheet metal it is installed into. That creates a flush installation on both sides of the sheet metal versus only one external side. 
Obtaining Quality Self Clinching Fastener Inventory
PENCOM is the primary source of fastener hardware for sheet metal assemblies and  box builds for telecom/server racks, medical and general industry applications . Carrying one of the most extensive inventories and selections of self-clinching fasteners, PENCOM can handle esoteric requests. Customers are frequently surprised by what's in stock, expecting to be told something will be on backorder and instead is available to be shipped that day. And, PENCOM specialists are experts in sourcing and manufacturing extremely hard-to-find fastener hardware. So you need an expert in the field to save you time and energy to find the right hardware, even what you thought might be out of production; PENCOM can help.
Why Buy From PENCOM?
One of the best ways to find out what's possible is to call and connect with PENCOM's team. More often than not, we have likely already addressed a similar challenge with the exact part and what's needed. Having spent so much time working in electronics and system hardware, PENCOM specialists have access to many hardware solutions and keep track of the latest industry changes. The results are that your assemblies are optimized for reliable, and dependable field use. PENCOM is your answer for building hardware right the first time. Call or email to find out more.