SE – 22™
Specifications:
Force Range: 450lbs to 12,814lbs (2kN to 57kN)
Throat Depth: 18in (450mm)
Throat Height: 16in (400mm)
Stroke Length: 8in (200mm)
Insertion Capability: 2-56 to 3/8-16 (M2 to M10)
Motor Power: 1.5kW
Pump: Dual Pump
Cylinder speed: 2.75in/s to 4in/s (70mm/s to 100mm/s)
Repeatability: ±1% of force setting
Touch screen: 10in (254mm)
Control panel: Touch Screen
Tool change method: Manual
Force setting: Programmable
Oil tank capacity: 15.8gal (60L)
Standard supply voltage: 380V / 3 Phase / 50-60 Hz
Custom voltage: 220V / 240V / 400V / 415V / 480V
Current: 4A
Hydraulic oil: Mobil DTE 10 Excel 46
Air pressure: 58psi to 87psi (0.4MPa to 0.6MPa)
Dimension (L x W x H): 36.6in x 43.4in x 78.7in (930mm x 1100mm x 2000mm)
Weight: 1,455lbs (660kg)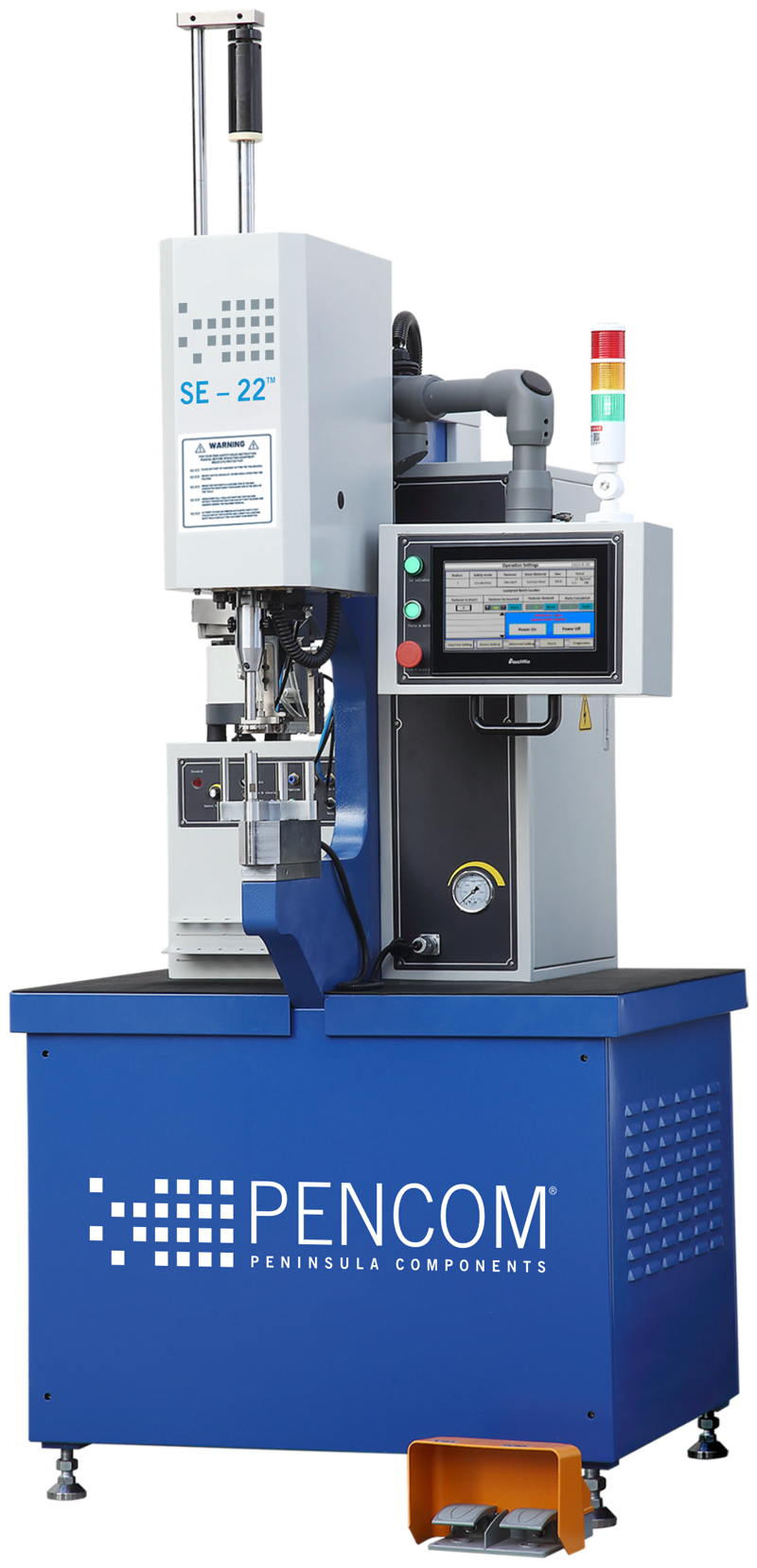 Standard Features:
Auto Stop: This feature reduces risk and harm to operators. As the press is in motion, it will stop when encountering a foreign object.
Positive Stop: This type of adjustable control energizes a solenoid valve to extend or retract the cylinder at the appropriate time. When the extend valve is energized, the cylinder begins to extend and it moves until it hits a stop at the end of its travel. When the solenoid for retraction is energized, the shaft will begin to retract until it hits the stop at the end of its travel. This is an advantage in softer materials such as PCB, plastic, and aluminum.
Batch Counter: The batch counter will automatically count the number of installed fasteners in a single application, and features a buzzer to indicate when the total installations are complete.
Laser Locating: This system allows the operator to see where each fastener will be installed with precision.
Optional Features:
Modular Auto-Feed System (MAS): MAS handles nuts, studs, and stoffs ranging from M2 to M6 (2-56 to 1/4-20) and a maximum length of 25mm (1 inch). This system features a high-quality vibration bowl for the movement of parts, and a variable frequency vibration controller.
Automatic Tooling System: