TGU Surface-Mount Spring-Top Standoffs
Also Available in Inch
---
Standoffs installed on p.c. boards at the same time and method as other surface-mount technology (SMT) components. Their spring action holds panels in place without threaded hardware.
Reduce secondary handling of p.c. boards that may lead to potential damage.
Packaged on tape and reel consistent with standard automated SMT installation equipment.
Custom lengths available by request.
General
Top Panel
Bottom Panel
Thickness
Material
Hole 1 Diameter
Minimum Thickness
Material
Hole Diameter
1.00-1.80
Any
4.00-4.08
1.53
P.C. Board
4.22-4.30
Reel Data
Length
6
8
10
Parts per Reel/Pitch
300/16
250/16
200/16
Material and Finish
Carbon Steel/Electroplated Matte Tin per ASTM B545, Class A with Clear Preservative Coating, Annealed.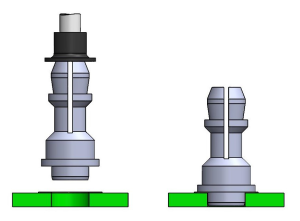 Installation
Apply solder paste to p.c. board pad. Place fastener by gripping end with polyimide patch. Solder fastener in place using surface-mount technology (SMT) practices.
Performance
Bottom Panel
Top Panel
Test Sheet Material
Push-out
Max. Snap-on Force
".062" (1.57mm) FR-4"
113 lbs (500 N)
20 lbs (89 N)